Suits filed against landlord, Kohl's
Shanin Specter and Dominic Guerrini filed suit recently against the owner and landlord of a Center City apartment building where one man was killed and a young woman suffered a broken back when a fire escape landing collapsed, causing them to plummet more than 40 feet to the ground. The suit was filed on behalf of the family of Albert Suh, 22, a recent graduate of Pennsylvania State University who worked as a financial analyst, and Laura O'Brien, 24, a Philadelphia kindergarten teacher. The incident occurred on Jan. 12 in the Rittenhouse section of the city. (See news coverage)
In another case, Tom Kline and Kila Baldwin filed suit against Kohl's department stores on behalf of a six-year-old boy who was blinded in one eye and suffered a brain injury after he struck the end of a display hook in a Wilkes-Barre, Pa. store. The lawsuit claims there were no signs or bright colors warning about the dangerous nature of the hooks, which were placed at children's eye level. It noted two similar injuries in the past in Kohl's stores. Store display hooks generally have been a subject of concern for many years, with the National Safety Council first warning in 1974 that they can be "extremely dangerous." Yet many stores still use them. (Read the article)
---
Charitable giving by Kline & Specter lawyers
Kline & Specter and its attorneys contribute to a long list of legal, educational and charitable organizations, including those providing legal assistance to the disadvantage and those simply helping less fortunate individuals, many of them victims similar to those represented by the law firm. Recipients range from the AIDS Law Project to the American Cancer Society and the Boys and Girls Clubs of Philadelphia to United Cerebral Palsy, the University of Pennsylvania Law School and the Wellness Community. Click here to see a complete list of Kline & Specter charities.
---
Live from New York, it's Saturday morning …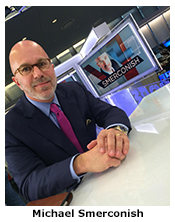 Syndicated radio host Michael Smerconish, of counsel at Kline & Specter, is joining CNN for a new weekly television show to air on Saturday mornings and to provide commentary throughout the week for the news network. Smerconish will continue to host his radio show on Sirius XM and also write his weekly column for The Philadelphia Inquirer. The new CNN show will be broadcast live from New York. CNN Worldwide president Jeff Zucker said: "We are thrilled to have Michael join CNN. At a time when the cable news landscape has become increasingly polarized, his independence and passion for reasoned dialogue makes him the perfect fit for CNN." Smerconish has done previous stints on TV, most notably as guest host for Chris Matthews on the MSNBC program Hardball.
---
PUC spurred by Goretzka case to start new investigative division
Positive developments, set in motion by Shanin Specter, continued in the wake of the historic $109 million verdict for the family of a Pittsburgh-area woman killed by a fallen power line. First, a few months after the verdict, defendant West Penn Power agreed to end the case with a settlement of $105 million. Then the Pennsylvania Public Utility Commission approved a remediation plan under which the power company will use infra-red technology to inspect all splices on power lines to detect potential failures while also retraining all linemen on proper installation. And recently, as an outgrowth of Goretzka v. West Penn Power, the PUC announced the formation of its new Electric Safety Division, which will employ engineers to investigate reported electrical injuries rather than rely solely on reports by utility companies. The Goretzka case was litigated by Shanin Specter, Kila Baldwin and Dominic Guerrini.
---
Movie tells "Happy Valley" story, Kline featured
Tom Kline has appeared on some 1,000 television news programs, but now he makes his debut on the silver screen. Kline is featured in the new documentary titled "Happy Valley" about the Penn State sexual-abuse scandal. The movie by documentarian Amir Bar-Lev premiered at the Sundance Film Festival in Utah in January. The movie looks at the case involving convicted sex offender Jerry Sandusky, a former assistant football coach, and also engulfed the school's football program, the late Coach Joe Paterno, school administrators and, basically, the entire community of State College, Pa., also known as Happy Valley. Kline, who successfully represented Victim No. 5 in a civil lawsuit against Penn State, also attended the entire criminal trial against Sandusky and was a frequent commentator on the case. (See full news coverage)
---
Get Our Eletter
If you know someone who would want to receive our Eletter, simply forward this email and they can click here to complete the E-letter form.
Join Us on Social Media
Follow us on Facebook, Twitter, Google+ or go to www.klinespecter.com and "like" us, tweet our pages or "share" on Google+
Like us – Review us with 5 Stars …
---