PUC orders WPP remedial steps
On the eve of the one-year anniversary of the celebrated $109 million verdict in the Goretzka fallen power line case, the Pennsylvania Public Utility Commission ordered West Penn Power Co. to take remedial measures aimed at preventing a similar deadly tragedy. Included in the order approved on Dec. 5 was a modified training program for linemen to begin within three months and be completed within one year with mandatory annual refresher training on power line preparation and splice installation. The utility also must inspect all splices in its primary distribution system using infra-red technology within three years, replacing any of the devices deemed at risk of failure. The steps are expected to cost West Penn Power an estimated $2.5 million. The company was also fined $86,000 by the PUC. The PUC's investigation leading to this order was initiated at the request of Shanin Specter, who cataloged in a written complaint to the PUC the safety hazards affecting citizens of southwestern Pennsylvania arising from West Penn Power's conduct.
---
Firm attorneys pen ADR book chapter
Shanin Specter and Jason Pearlman authored the concluding chapter in the recently published book titled "Global Perspectives on ADR." The book analyzes various forms of Alternative Dispute Resolution in countries throughout the world, among them Australia, China, Ireland, Japan, Korea and the Philippines. It notes a growing trend in legislatures providing citizens opportunities to resolve legal disputes outside the courts. Specter and Pearlman penned one of two articles on the United States, an 18-page synopsis on mediation from its historical evolution (including President Theodore Roosevelt's mediation of the United Mine Workers strike of 1902) to a discussion on the future of mediation. The article opines that ADR systems will continue to be used but "will never be a replacement for the indispensible American jury trial." (Read the entire article)
---
Squash Center honored, signed for long-term tourney deal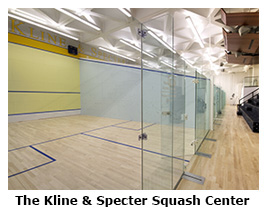 The Kline & Specter Squash Center at Drexel University had two major victories of its own in October. The structure, located inside the Daskalakis Athletic Center and designed by Friday Architects/Planners of Philadelphia, was the recipient of a merit award for design presented by the local chapter of the American Institute of Architects at an October ceremony. Drexel University also inked a deal to host the U.S. Open Squash Championships for the next 10 years. Drexel has hosted the tournament, the largest in the nation and featuring the world's top players, since 2011. The U.S. Open has been held in 22 different cities since 1954 but now has a more permanent home in the squash center whose funding was donated by squash enthusiasts Tom Kline and Shanin Specter. (The 2013 tournament, played in October, ended with World No. 1 women's player Nicol David taking a stunning come-from-behind victory and World No. 2 Gregory Gaultier of France winning the men's title.)
---
The best strategy
Shanin Specter presented a lecture on settlement strategies to the Philadelphia Trial Lawyers Association. Every seat was taken at the event attended by about 100 people in a private room at Del Frisco's Double Eagle Steak House in Center City. The lecture came toward the end of a year in which Specter negotiated several very large settlements, including a $105 million settlement in a fatal fallen power line case which earlier had resulted in a $109 million jury award in Pittsburgh. Specter told his audience: "The best strategy for obtaining big settlements is to try and win cases."
---
Kline & Specter bolsters attorney ranks

The firm added two new lawyers, Elizabeth A. Crawford and Tracie L. Palmer.
Crawford was an honor student at the Earle Mack School of Law at Drexel University, where she won awards for Best Student Performance in trial advocacy, employment discrimination and criminal law. She earned her undergraduate degree in psychology from Loyola College, graduating magna cum laude. As an attorney, she performed pro bono legal work with the Domestic Violence Unit of Philadelphia Family Court and clerked for Pennsylvania Supreme Court Justice Seamus P. McCaffery.
Palmer earned her undergraduate degree from Harvard University and was a prosecutor with the Philadelphia District Attorney's Office before joining Kline & Specter. She earned her law degree from the University of Pennsylvania Law School, where she was executive editor of the Journal of Law and Social Change and won the Pro Bono Volunteer of the Year award for her work with Students Against Gender-Based Exploitation.
---
Chamber mentions top lawyers
Tom Kline and Shanin Specter were named by the U. S. Chamber of Commerce as "highly respected plaintiff's lawyers" in an October 2013 report. The Chamber, no pal of attorneys, named Kline & Specter in its "attorney watch lists" in a report titled: The New Lawsuit Ecosystem: Trends, Targets, and Players. The report was released during the Chamber's annual "legal reform summit."
---
Get Our Eletter
If you know someone who would want to receive our Eletter, simply forward this email and they can click here to complete the E-letter form.
Join Us on Social Media
Follow us on Facebook, Twitter, Google+ or go to www.klinespecter.com and "like" us, tweet our pages or "share" on Google+
Like us – Review us with 5 Stars …
---