Settlement reached in med-mal case

Shanin Specter, Andy Youman and David Williams won a $5 million settlement in the case of a teenager who developed a spinal fracture and epidural hematoma following surgery for scoliosis. The episode occurred in 2010 at a Philadelphia-area hospital and involved a failure to timely and appropriately evaluate and treat the 14-year-old boy's back pain and weakness in his lower extremities. Thirteen days after his surgery, the patient reported great pain when he tried to stand for the first time. His condition continued to worsen, yet a resident treating him failed to perform a thorough neurologic evaluation and other doctors did not order a consult from neurology services. The boy was left with partial paralysis in his legs.
---
Balefsky named to Steering Committee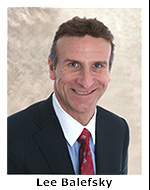 Lee Balefsky has been chosen as a member of the Plaintiffs' Steering Committee involved in all transvaginal mesh cases nationwide and he also serves as liaison counsel in the Philadelphia Mass Tort Pelvic Mesh program. Balefsky heads the Mass Tort department at Kline & Specter and has had great success in previous litigation, including the $4.85 billion Vioxx settlement and settlements involving denture cream products and the diet drug Fen-Phen. His department is also currently handling cases involving harmful side effects of the anti-psychotic drug Risperdal. Transvaginal mesh, also known as bladder sling or pelvic sling, is used to treat pelvic organ prolapse and urinary leakage but has eroded or shrunk after insertion in many women, causing organ perforation, pain, bleeding, infection, and urinary incontinence. (Learn more about transvaginal mesh lawsuits)
---
Caputo named to PILCOP board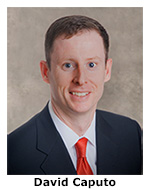 David Caputo joined the Board of Directors of the Public Interest Law Center of Philadelphia (PILCOP), a nonprofit, non-partisan law firm that represents individuals and organizations in contesting laws, policies and practices that perpetuate discrimination, inequality and poverty. Founded in 1969, its lawyers employ class-action lawsuits, policy advocacy, community organizing and education to create change for clients who include the disabled, minorities and the poor. PILCOP is funded through grants, donations and court-awarded attorney's fees in addition to private donations. For more information visit www.pilcop.org.
---
Specter debates tort reform at
Drexel forum
Drexel University School of Law hosted a debate on tort reform featuring two of Philadelphia's leading trial attorneys – Shanin Specter and Joseph O'Neil, partner at the Lavin O'Neil law firm. Several issues were discussed at the March 12 forum, including the Pennsylvania Fair Share Act, under which defendants found less than 60 percent liable in civil trials bear responsibility only for their share of a jury award. Previously, wealthy defendants found liable could be forced to pay a greater proportion of damages if other defendants could not do so. Specter told the audience that the Fair Share Act has significantly reduced the number of liability cases brought to trial, but O'Neil argued the law presented a "more fair approach." The debate was sponsored by the Civil Litigation Society, Drexel Republicans, the American Constitution Society and the Health Law Society.
---
All the rage for spring …

This item was spotted in the April 1 Daily News. Nice, but what wasn't mentioned about Lashon Foster's "cute outfit" was the key accessory that made it all work -- a Kline & Specter logo black tote.
---
Andy Stern provides commentary on aviation stories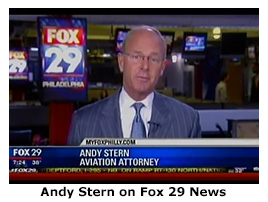 Andy Stern, an attorney and licensed pilot, was called on by the news media to provide insight into two airline mishaps -- the missing Malaysian jetliner and a runway accident at Philadelphia International Airport. Stern, who has successfully litigated a number of aviation lawsuits, has become a frequent television commentator. A licensed pilot since 1993, he has been handling aviation cases even longer, winning a substantial settlement for two pilots in the 1991 tragedy that also killed U.S. Sen. John Heinz and several others. He obtained a settlement in another case involving a defective jet de-icing system that caused the deaths of inspectors with the Federal Aviation Administration. (Watch the latest TV clip)
---
Kline and Specter on all-star seminar panel
Tom Kline and Shanin Specter participated in the "Stars of the Bar" seminar sponsored by the Pennsylvania Association for Justice. PAJ advertised the continuing legal education forum as a chance for fellow attorneys to learn from "some of Pennsylvania's greatest trial lawyers" and discover their secrets for success. The panelists provided insight into their trial skills and shared practice strategies during the session held at the Top of the Tower at 1717 Arch St. in Philadelphia. Kline and Specter were two of the six lawyers chosen for the seminar. Others were Nancy H. Fullam, Thomas J. Duffy, Alan M. Feldman and Robert J. Mongeluzzi. The event was moderated by Michael Barrett.
---
Tom Kline to peer down from Duquesne wall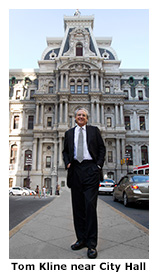 Tom Kline earned his law degree from Duquesne University School of Law in 1978, graduating with the school's Distinguished Student Award. Years later, he received its Distinguished Alumni Award. And recently, the university announced that Kline's photograph will be placed by Dean Ken Gormley on a wall in the law school's third floor with a description of his many accomplishments in the legal profession. The university said it hopes the photo of Kline "will not only be an inspiration for our current students but prospective students as well." Kline's photo shows him standing in front of the place where he won many of his largest courtroom verdicts, Philadelphia City Hall.
---
Civil rights, wrongful death suits filed
Tom Kline filed suit in two well-known cases, one involving the abduction and sexual assault of a kindergarten student from a Philadelphia elementary school and the other the death of a city radio personality. Among defendants in the first case is the city school district, which is blamed for a "state-created danger" that violated the five-year-old girl's constitutional rights to liberty, privacy and bodily integrity. She was found partially clothed in a playground the day after being taken from school by a woman, later arrested, who lacked proper identification. (See news coverage)
In the wrongful death case, the suit claims that radio host Steven E. Collins received substandard care before he died of a heart attack at Chestnut Hill Hospital. The popular community activist widely known as "E" died last September after being taken to the hospital experiencing chest tightness and difficulty breathing. (News coverage)
---
UPCOMING EVENTS
May_6: Tom Kline will argue before the Pennsylvania Supreme Court in Harrisburg in an appeal challenging the constitutionality of the state law limiting legal recoveries against government entities to $500,000. The case involves Ashley Zauflik, a high school student who lost her left leg after she was run over by a bus on school property in Bucks County. A jury awarded $14 million in the case in 2011 but the state law limited her recovery to the state cap of $500,000.
June 25-26: Tom Kline will be speaking at the American Conference Institute's 13th Annual Advanced Forum on Obstetric Malpractice Claims, at The Union League, 140 South Broad St., Philadelphia.
---
Get Our Eletter
If you know someone who would want to receive our Eletter, simply forward this email and they can click here to complete the E-letter form.
Join Us on Social Media
Follow us on Facebook, Twitter, Google+ or go to www.klinespecter.com and "like" us, tweet our pages or "share" on Google+
Like us – Review us with 5 Stars …
---